KB0011 - Are licenses different between Production, QA and Test/Development servers?
Developers licenses with limited functionality may be created for PowerShell Universal QA/Test servers by using the 'Generate Developer License' button under Settings -> License (see screenshot below)

🛑 You must have at least 1 licensed instance of PowerShell Universal to do this
When a server license is purchased, you will be able to generate developer licenses for users building solutions for your team. Developer licenses do not allow remote access and are intended to be used locally. Do not use developer licenses when hosting a server for remote access for testing or production.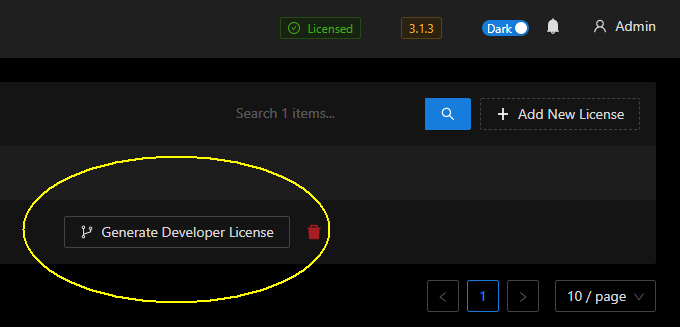 Related Articles

PowerShell Universal Service crashes on startup after an upgrade to 1.4.6

Version: PowerShell Universal 1.4.6 Issue The PowerShell Universal service will crash with the following error in Event Viewer. Application: Universal.Server.exe CoreCLR Version: 4.700.19.56402 .NET Core Version: 3.1.0 Description: The process was ...

KB0015 - Offline PSU server has slow dashboards

Disclaimer Please be careful with changing any settings on your server around the Certificate Revocation List. You should only do this if you know what you are doing. Read the related Github articles (linked below) in their entirety. Symptom PSU ...

KB0013 - Moving PSU to another server

Below are Adam's comments on this topic from August 2nd, 2022: The configuration for PowerShell Universal, including the license, is stored as PS1 files in the repository directory. https://docs.powershelluniversal.com/config/repository We recommend ...

PowerShell Universal crashes after upgrade to 1.5

Version: 1.5 Issue: The PowerShell Universal service will not start properly when upgrading from 1.4 to 1.5. The following error is shown in the log. Unhandled exception. System.InvalidCastException: Unable to cast object of type ...

PowerShell Universal cmdlets return a 404 over HTTPS

Version: 1.4 PowerShell Version: Windows PowerShell 5.1 Problem When issue commands against the PowerShell Universal Management API (such as Get-UAJob, Get-UAScript, etc), the cmdlet will return a 404 error. This can happen when running scripts ...